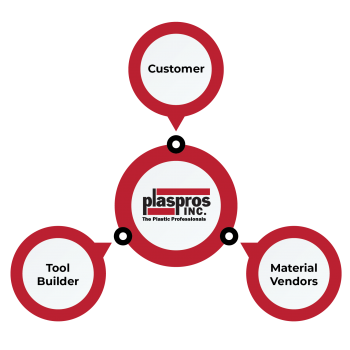 Reaching the Best Solutions through Collaboration
Plaspros specializes in complex and precision plastic injection molding, and are experts in working with a wide range of tools and materials. Whether built in the U.S. or internationally, we work with tool builders and material vendors around the world to create the best solutions, maintain quality, control costs, and ensure strict customer specifications are followed and production is efficient. Our expert team is here to assist you with:
Concept Design to Finish
Moldability Assistance
Steel and Aluminum Tools
Domestic and Offshore Tool Build Management
Material Selection
Tool Build Reporting
CAD or Additional Manufacturing Software
3D Mold Prototyping
ISO 9001:2015-Certified Custom Plastic Injection Molding Manufacturer
Product ideas are meaningless without the capabilities to put them into production. We are proud to be an ISO 9001:2015 Certified Custom Plastic Injection Molding manufacturer. This global recognition ensures that our management systems, processes, documentation procedures, and service meet strict international standards. We also demonstrate our dedication with our in-house PIT Crew, short for "Plaspros Improvement Team," comprised of leaders from throughout the company who continually evaluate our policies and processes for opportunities to support customer growth and development.